HUMPUS® with both Male & Female Attachments
Package includes:
Humpus.
Male Attachment.
Female Attachment.
Vibrator.
Belt.
Leg Straps.
AC Charger (110-240v).
4 x Plug Adapters.
Owners' Guide.
Luxury Presentation Box.
The Humpus is one of the most compact, flexible and accommodating sex toys that can be enjoyed by couples in so many different ways to suit your personal desires.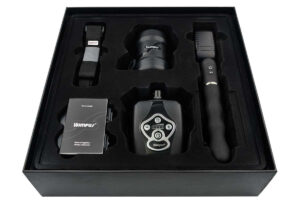 The Humpus is truly a unisex masturbator, changing from the male to female adaptor (or vice versa) is quick and easy, or better still you could have one each and take your pleasure together at the same time, relaxing letting The Humpus do all the work while you simply let your mind wander or you use your hands for other things?
Whatever the couple combination, whatever the sexual orientation or even for groups The Humpus will perform, watching The Humpus in action can be fun almost but not quite as good as using it. The female and male adaptors are available as accessories, so you can have, and maybe name, your personal adaptor. Use The Humpus as a part of your fantasy, its use is limited only by your imagination, just imagine having both your hands free whilst feeling you are being pleasured by a third party.
Foreplay can take on a new dimension when using The Humpus to stimulate the most sensitive areas of your body or using The Humpus to stimulate one part of the body whilst you and or your partner are busy stimulating other areas. You will not want to leave home without your Humpus, it will be the first thing you pack!